FEATURED UWC MEMBER OF THE MONTH



JULY 2017
DAN WENNERLIND
WF-000-001
MINNESOTA


I would like to share my story as to how I came to start the UWC North American Waterfowl Grand Slam. As with most serious waterfowl hunters, my hunting career started well before I could carry a gun. I followed my Father around the marsh in western Minnesota on what at the time was one of the best waterfowl hunting reservoirs in the entire state, if not the Midwest- Marsh Lake. Thus the waterfowl hunting tradition was installed from an early age.

After graduating from college with a degree in Wildlife Management I picked up a short reed goose call and a Chesapeake Bay Retriever Pup and got a job as a duck hunting guide at a duck club. I guided waterfowl hunters for the next 10 years before launching another outdoor company called HuntTheNorth.com.


In 2014 my passion for waterfowl hunting drove me to Officially launch the Ultimate Waterfowlers Challenge and taking the challenge myself of harvesting all 41 species of huntable waterfowl in North America It has been a most enjoyable experience meeting many die hard waterfowl hunters from across the country and helping them in their quest for completing the North American Waterfowl Grand Slam.
The UWC Adventures Program was born out of an attempt to not only complete the challenge myself, but to also offer other hunters who are I quest of completing the "Grand Slam" a reputable and reliable option to harvest those not so easy to get birds.

One of my best memories from taking the UWC Challenge myself thus far came this last January while standing in a 23 ft boat in the middle of the Bering Sea on St. Paul Island, Ak holding my trophy King Eider in hand. While most likely completing the Grand Slam this coming season, I now look forward to making these memories all over again with my two boys as they get old enough to hunt. I hope to help instill that drive in many more young waterfowlers that come down the path as well for generations to come!


I feel so Thankful and Blessed every day by the Lord, to have the ability to found this wonderful organization with my incredible partner Brandon Crowley and to have the ability to wake up every day and work in the industry that I truly love! I can't wait to meet many of our UWC members at our first annual UWC Banquet in June 0f 2018.


READ MORE STORIES HERE >>
APRIL 2017
DON TERRELL
WF-000-504
SOUTH CAROLINA


Last month we featured on one of our youngest active members of The UWC. This month we are taking things to the other extreme and are featuring one of our oldest active members of the UWC- Don Terrell of South Carolina.

Don joined The UWC at age 75, after seeing one of our ads in Wildfowl Magazine. At the time Don was heading up on a trip to Alberta and received his UWC Member Kit within days of leaving for Canada. On that trip Don harvested 3 species of geese and 3 species of ducks- including the elusive Barrows Goldeneye. He was off and running. By the end of his first season as a UWC Member Don had 13 different species under his belt and became one of our fastest growing members.


Oddly enough Don did not grow up as an active duck hunter. In fact his first experience in the marsh came at age 23 when he joined a couple friends from college out on the Santee Cooper marsh in South Carolina. Don recalled that trip being one of THE WORST duck hunting experiences of his life, as it was freezing cold that day and he fell through the ice and nearly froze to death. By the end of the hunt Don said he sailed one duck out in the middle of the lake and was never even able to retrieve it. It is a wonder he became the duck hunter he is today after that experience.

Fast forward 55 years later and Don has now hunted in 12 different countries and has shot banded ducks in 4 of them, including a Blue-winged Teal in Venezuela that was banded in Manitoba, Canada. Last season Don took the ultimate challenge and booked his hunt to St. Paul Island, Alaska in quest of the Mighty King Eider in the middle of the Bering Sea. Don said although it was quite the challenge to connect on one of the great birds, due to the fact that he just doesn't have the "sea legs" he once had now at age 77. It was a very rewarding and memorable experience when he finally had his gorgeous drake in hand Don recalls. Don ended by stating that the people he has met across the continent has been the best part of his duck hunting career and he urges all serious waterfowl hunters to Take The UWC Challenge, as there is more to being a well-rounded duck hunter then just being a "Mallard Hunter".


Coming up for the 2017 waterfowl hunting season, now being a retired banker and Sporting Traveler agent, Don already has 12 different trips planned in conjunction with knocking off the remaining species on his North American Waterfowl Grand Slam Challenge. He expects to be in the mid 30's by the end of this year and we are sure it won't be long after that before Don hoists The UWC Grand Prize King Eider Trophy over his head, at this rate prior to his 80th B-day! Way to go Don, you are an inspiration to us all!



MARCH 2017
GREYSON PONDER
WF-000-975
ILLINOIS


Greyson Ponder is one of our very youngest active members at The UWC, but from what we quickly learned, is one of our more experienced waterfowlers. In fact, even though Greyson has yet to reach the first certification level of The UWC, or the fact that he still cannot legally drive a car, he has already accomplished more at age 13 than most waterfowl hunters will in a lifetime. Grayson has been actively trying to complete the North American Waterfowl Grand Slam on his own since he shot his first duck- a drake Common Eider, off the East coast in a layout boat with his Dad, at age 7. When asked about the experience Grayson said he couldn't even cock the hammer back on his single shot 410 at the time but he was a dead eye from the start and he dropped the big bird with a single shot!

From that point on he was hooked. Being blessed by a very supportive and passionate family, his father Michael has gently pushed Greyson to fulfill his dream, being careful not to overstep and make it about him, but keeping it about fulfilling Greyson's dream of completing the N.A. Waterfowl Grand Slam. And his mother Carolyn has supported all of the trips it has taken to pursue the 41 species (42 in Greyson's case as he is also adamant about adding both the Atlantic and Pacific Common Eiders to his collection).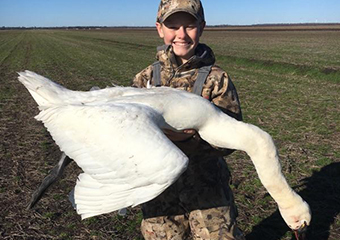 In speaking with Greyson about his accomplishments, thus far he stated that his most memorable hunt was with his father on St. Paul Island, Alaska at age 9. Using his 20 gauge Benelli shotgun, he and his father were able to limit out on 4 King Eiders a piece that day. In fact that turned out to be one of Greyson's most memorable hunts as not only did he harvest a full limit of Kings, but he recalls a pair of the big drakes flying from left to right at about 50 yards and he and his Father each squeezing the trigger once and both birds fell. A memory Greyson will cherish forever.


Since starting his waterfowl hunting career 5 years ago Greyson has already been to Alaska 4 times and also down to Mexico. He only has 2 birds left to complete his Grand Slam- the Common Merganser and the Hooded Merganser. Both of which he feels confident he will harvest in his stomping grounds near Green Bay, Wisconsin this coming season.


After speaking with Greyson, what was most impressive, outside of the fact that by age 13 he has already harvested 39 of the 41 waterfowl species in North America, using only a 20 gauge and 410, was the fact that he is a very mature, well spoken and humble young man. Greyson truly enjoys the sport of waterfowling and can already appreciate how lucky he is to have the opportunities he has been given by his parents. It was very evident that the strong hunting ethics and conservation mind of his father Michael, along with his family's core life values, have been passed down and instilled into Greyson at a young age. Both of the Ponder's get as much enjoyment by taking out as many new hunters as they can each year and helping them be successful in the marsh, as they do partaking in the actual hunt themselves. At The UWC we feel honored to have this magnificent Father / Son combo as valued members and can't wait to watch their success. Be sure to follow Greyson's journey on Facebook at: https://www.facebook.com/greysonwestadventures as he completes his own Grand Slam and continues on to The UWC Grand Master Waterfowl Hunter Certification.

TELL US WHY YOU LOVE THE CHALLENGE! SUBMIT YOUR TESTIMONIAL AND FAVORITE HUNTING PICTURE VIA EMAIL BY CLICKING HERE


WHAT THE UWC CHALLENGE HAS MEANT TO OUR MEMBERS


So glad I joined UWC. Didn't do it for the plaque you receive at certain levels although they are really nice. Dan went over and above on those. What UWC has done for me is give me the opportunity to hunt waterfowl that I never would have hunted, to hunt places I never would have hunted, hunt different ways that I never would have hunted, and have met some really great people in the first year. I would recommend this to EVERYONE regardless how good of a waterfowl Hunter they are. THANKS DAN!!!



Greg Carpenter
Member # WF-000-253 (Gold Member)

Florida


---
In the world of hunting you have The Super Slam of North American Big Game, The Wild Turkey Grand Slam, The Super Ten, and even The Washington State Mini Slam and Hawaiian Grand Slam as well as a few others. As waterfowl hunters we use to just have the hopes of bagging a beautiful banded bird or chasing after a specific one that's been on our bucket list for years. So when I first heard a friend of mine mention the Ultimate Waterfowl Challenge it made me think to myself, finally a challenge for duck and goose hunters that is definitely an extraordinary achievement.
I began my membership late into the 15-16 season with around 4 weeks left of the regular season, each new species that I have been blessed to harvest has been such and excitement to be able to register it and check it off my list. The challenge has also pushed me to open my horizons to all types of waterfowl hunting and I'm more than anxious to try my luck on sea ducks at the UWC Destination 7: New England Sea Ducks in December of 2016. I can also say after spending a week at Destination 5: Nebraska Spring Snows, that Dan knows how to pick world class guide services, I am already planning on this trip again.
Overall, if you're looking for a little extra excitement to your hunting season I highly recommend joining in on the challenge and start your way on to all 41!
Ryan Scott
Member # WF-000-265
Texas
---
I am sixty one years old now and by the grace of the Lord I have been fortunate to hunt and fish all over our great nation and several parts of the world. I recently went on a hunt in January 2016 to St. Paul Island, Alaska for the Hunt of a lifetime. Before I left for the hunt my friend introduced me to The Ultimate Waterfowlers Challenge. I immediately became a Gold Member of the Challenge. All the other hunting groups have the Deer- Turkey- Sheep Slam, now we have the Ultimate Waterfowl Slam. I am very excited about the fact we have a goal to reach in waterfowl hunting. The St. Paul hunt was the most extreme waterfowl hunting I have experienced to date. With forty mile and hour winds and eight foot seas it was very difficult to shoot at passing birds but we got our limit of Kings.
Now I know why they call them the King. I am so excited about completing the Slam of the forty one waterfowl species, I have booked two hunts from The UWC Adventures "Great 8" for the 2016 season and booking two more hunts for the 2017 season. I think if you are a true and dedicated waterfowler you should join The Ultimate Waterfowlers Challenge. I look forward to meeting some of my UWC colleges in a blind, in the future.
James Faulk Jr
Member # WF-000-267
North Carolina
---
When I first noticed the Ultimate Waterfowlers Challenge, I thought immediately what a great idea! It should help spur more young people into the sport, which seems to be declining in numbers annually, according to duck stamp sales. My first thought was how I wished this had come about years ago, since I had already taken all but three of the 41 in many years of chasing these wonderful birds. In my 77th year, I thought how much fun it would have been to have an organization to record these accomplishments and even keep score for me, as I traveled the world chasing waterfowl, particularly ducks. But after reading through the site, and identifying how thoughtful and well organized the idea had become, I said to myself, "Why not give it a try?" At my age, it will certainly be interesting, and it might just be the motivation I have always needed to add the harlequin, Barrow's goldeneye and King Eider to my personal list. In fact, why not start all over again and see if I can do it in the time I have left, before the body begins to react to the unkindness's I have put it though. Many friends have asked me when am I going to grow up and hang my waders up for good. I just grin and tell them that as long as I have great young friends who are willing to help drag me out there and drag me back, I'm going to follow my passion and continue to endure the cold and discomfort. Nothing puts a bigger grin on this old mug than the thought of going duck hunting, so I joined the Challenge, and look forward to every new adventure it opens for me. Although, I am, and have been for more than 25 years, an outdoor travel booking agent, I'm looking forward to signing up for several of the Great Eight adventures this coming season! Since I entered the challenge, I have added the Barrow's goldeneye, and started my planning to pass phase two of the challenge, on the way to full accomplishment. I am an enthusiast for the program, and have already started recruiting many of my young friends and hunting pals to follow suit. I congratulate Dan and his team for implementing a wonderful idea, and for adding a new enthusiasm to this old geezer!

Don Terrell
Member # WF-000-504

South Carolina
---
I joined the Ultimate Waterfowlers Challenge this last Fall, and have really enjoyed the "trophy" hunting aspect of the sport all over again. Truth be told, I have mounts of several species of the Challenge already, as I always mount the first of any drake that I harvest. I find that by "re-collecting" these trophies and registering them with the UWC, it adds new memories to the previous memory of each bird collected.
I enjoy the process so much, I bought my son a UWC membership for Christmas, and now we both enjoy the experience together! We have already booked a goose hunt this Spring in Nebraska from the UWC Great Eight Hunting Adventures, and we plan on booking other hunts through the UWC in the future.
Being a member of the Ultimate Waterfowlers Challenge has been a lot of fun and also a very rewarding experience. It's a great way to document the hunting milestones of a hunting career. My son and I look forward to all the hunting adventures that lay ahead of us in the future as we continue to harvest/register the many beautiful waterfowl species!
Russ Freehling
Member # WF-000-261
California
---
I first heard about UWC from my Dad, Russ Freehling SR. He was telling me about all of the adventures that UWC promotes, as well as all the different types of species that one could hope to harvest while on these trips.
Before long Dad was a Gold Lifetime Member of the UWC, and the challenge was on! I had so much fun while in the blind with Dad trying to help him bag his drakes to qualify for the challenge, that he gave me the gift of a Gold Lifetime Membership of the UWC for Christmas, so that we could complete the challenge together.
We recently went to Nebraska Destination #5 Spring Snows, our first UWC hunt, and couldn't be any happier with the results. The hunting was fantastic, and the guide service was top notch. To top it off both Dad and I were able to record three birds for our challenge (Snow, Blue, and Ross), and I was able to achieve the level of Master Hunter. Of course Dad was able to accomplish the level of Master Hunter about five weeks earlier!
Both Dad and I now have something new to look forward to everyday we head out to the blind, hoping that today may be the day that we can harvest a new species for our challenge, and getting to do it together is priceless. Thank you UWC.
Russell Freehling JR
Member # WF-000-264
California
---
Becoming a member of the Ultimate Waterfowlers Challenge has created memories that will truly last a lifetime. Instead of focusing strictly on the Mississippi flyway and targeting local puddle and diver ducks, I've had the opportunity to experience sea ducks off the coast of New England, Mottled Ducks in Florida and Tundra Swans in North Dakota.
The challenge has elevated my tactics and now brings meaning to the specific species that I'm targeting. Be prepared to hunt places you've never been, experience birds you've never seen and build friendships that will last a lifetime.
I encourage every solemn waterfowler to take the Ultimate Waterfowlers Challenge!
Brandon Crowley
Member # WF-000-003
Minnesota
---
My name is Miranda Simpson. I am twelve years old and live in the mountains of Colorado. I have been tagging along with my dad on hunting trips for as long as I can remember and started carrying my own gun four seasons ago, after passing my hunter safety course. Taking the Ultimate Waterfowler's Challenge has been a great experience! I love to hunt waterfowl and the quest to harvest different species has made it even more fun. It has made me more selective and more aware of what kind of bird I'm shooting at, and it gives me incentive to keep hunting even when it's tough. This has been a difficult season with not many birds in our usual spots and bitter cold temperatures but the chance to reach "Master Waterfowl Hunter" kept me going. I took my fifteenth species, a Ringneck, when it was twenty-six degrees below zero. As my dad and I continued to hunt for that elusive fifteenth species I came to realize that while the challenge may be to harvest as many species as possible the result is making memories that will last a lifetime!
Miranda Simpson
UWC Member # WF-000-065
Colorado
---
The UWC Challenge has reinvigorated my passion for the sport of waterfowl hunting. Now every time I shoot a different species of duck, it feels like the first time all over again! It has truly enhanced each and every day I spend in the field.
The UWC Challenge has taken me to places of the country I would never have gone. I have since had the opportunity to shoot Sea ducks on the ocean in New England, I have hunt Mottled ducks in the Florida Everglades, I even shot a massive 21 pound Tundra swan in North Dakota! It has created memories that will last a lifetime. I highly recommend to every SERIOUS waterfowl hunter- Sign up for the challenge today, you won't regret it!
Dan Wennerlind
Member # WF-000-001
Minnesota
---
As an avid waterfowl hunter, I've hunted both coasts, Canada and Mexico. The Ultimate Waterfowl Challenge has brought a new and exciting interest to harvesting a specific species. Now I'm more interested in what will be my next waterfowl species harvested, to get to the next challenge level, rather than hunting the same location and species on every hunt.
Denny Ackmann
Member # WF-000-038
California