CERTIFIED GRAND MASTER WATERFOWL HUNTER
The third and final level above the Certified Journeyman Waterfowl Hunter is becoming a Certified Grand Master Waterfowl Hunter. This is the pinnacle of the UCW Challenge! To achieve this certification level a member must successfully harvest and become certified for all 41 of the 41 Official Certified UWC Species (See Section 6 for the Official UWC N.A. Waterfowl Species List.)

Once a member successfully certifies all 41 species, the status of Certified Grand Master Waterfowl Hunter has been achieved. (Note: any additional species harvested outside of the Official UWC North American Species List will be added as "bonus species" to the hunter's official certified species list on the UWC website.) At this point the member will receive a custom carved King Eider Decoy mounted on a wood stand with a custom engraved gold name plate with the member's name and status as a Certified UWC Grand Master Waterfowl Hunter. The member will also be added to the Grand Master Waterfowl Hunter page of the UWC website and will have the ability to add an extensive bio and 3 additional photos for a total of 6 photos for fellow waterfowl hunters to read.



(All photos and bios and can be emailed directly to:

entries@watefowlerschallenge.com

)

(CLICK TO ENLARGE)
Receive this Custom Engraved Grand Master Waterfowl Hunter King Eider Decoy with hunters name plated on a wood base when you successfully register all 41 UWC species





Members are updated every Monday by 5 PM CST.

UWC MEMBERS WHO HIT THE GRAND MASTER WATERFOWL CERTIFICATION LEVEL IN 2019



CERTIFIED GRAND MASTER
WATERFOWL HUNTER:
Steve Sadowski
UWC ID: WF-000-897 | Minnesota
OFFICIAL START DATE: October 10, 2016 - COMPLETION DATE: January 2, 2019
TOTAL SPECIES HARVESTED TO DATE: 43
BONUS BIRDS INCLUDE: MEXICAN MALLARD, Hybrid Duck

After fulfilling the 41 North American Waterfowl Challenge, I look back at the pictures of all my adventures with great memories of all the fun times I've had. Waterfowl hunting has always been a passion of mine, because it allows me to spend time with my family and friends, as well as experience the great outdoors. In my lifetime, I will probably hunt these ducks again and again, and I hope to hunt ducks all around the world in the future. This sport allows me to forget the daily grind in the rest of the world and relax in the beautiful settings, where I can think only about duck hunting and being with friends. I have been truly privileged to enjoy duck hunting with my wife, my son and my great friends.

UWC MEMBERS WHO HIT THE GRAND MASTER WATERFOWL CERTIFICATION LEVEL IN 2018



CERTIFIED GRAND MASTER
WATERFOWL HUNTER:
Jason Van Dyke
UWC ID: WF-000-149 | Texas
OFFICIAL START DATE: November 24, 2014 - COMPLETION DATE: December 31, 2018
TOTAL SPECIES HARVESTED TO DATE: 42
BONUS BIRDS INCLUDE: MEXICAN MALLARD

Completing the slam has been the most enjoyable experience in my lifetime. I am a strong believer in goal setting and challenges such as this are important to the future of waterfowl hunting because they push people to take hunts that they might not otherwise consider. My favorite part of the challenge has, without a doubt, been the sea duck hunting. Opportunities for that type of a hunt simply don't exist in my state and it has been an absolute thrill going to the East coast, the West coast, the Bering Sea, and elsewhere to hunt these beautiful birds. The friendships I have made during the challenge, both with guides and other hunters, will hopefully last a lifetime.

Finishing a task such as this is always bittersweet because, for the past several years, the various hunts that I would schedule to knock another species off of my list were always events that I have looked forward to. I have gotten many of my friends involved in the challenge and I am hoping that my next adventure in waterfowl hunting will be to accompany them while they complete the challenge themselves. Being a species oriented hunter has also turned my attention to similar challenges - such as the National Wild Turkey Federation's "World Slam" - as well as waterfowl hunting opportunities on other continents. I am particularly interested in completing a slam of Shelducks, which would require travel to Africa, Asia, Australia, and New Zealand.

It is my hope that the UWC expands to provide additional challenges as more of its members complete the challenge. Until then, I will continue to enjoy hunting waterfowl and to broaden my horizons into hunting other types of animals.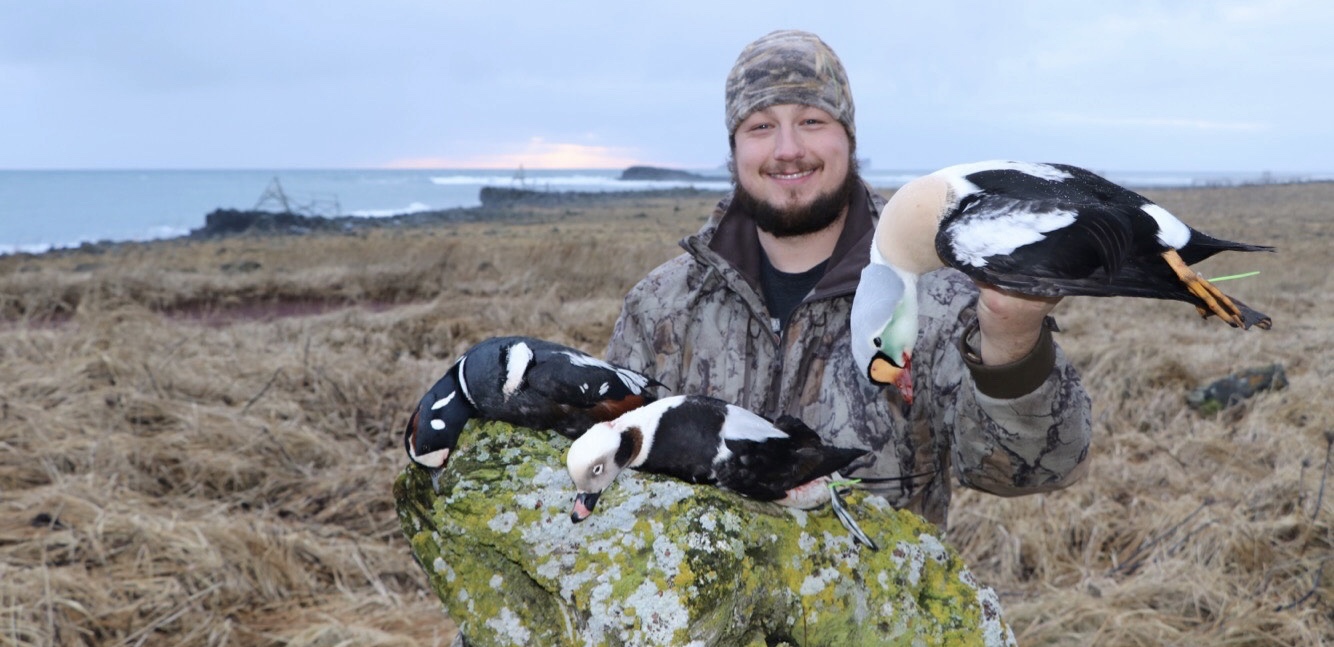 CERTIFIED GRAND MASTER
WATERFOWL HUNTER:
Chris Deckelmann
UWC ID: WF-000-136 | Washington
OFFICIAL START DATE: November 7, 2014 - COMPLETION DATE: February 13, 2018
TOTAL SPECIES HARVESTED TO DATE: 41


Bio Coming Soon....
CERTIFIED GRAND MASTER
WATERFOWL HUNTER:
Robert Brewer
UWC ID: WF-000-633 | North Carolina
OFFICIAL START DATE: February 29, 2016 - COMPLETION DATE: February 10, 2018
TOTAL SPECIES HARVESTED TO DATE: 42
BONUS BIRDS INCLUDE: MEXICAN MALLARD

My name is Robert Brewer and I'm from central North Carolina. I am an avid outdoorsman that began hunting, fishing and trapping at a very early age with my grandfather. My grandfather taught me many important things about the outdoors but most notably he taught me to respect the sport and the game that I harvest and that preservation of the sport was of the upmost importance.
As I grew into young adulthood I followed in my grandfather's footsteps, joining the Army at 19 years old. I spent 5 years as an Infantryman in the Army and made many brothers through the close bonds the military provides. During the course of my military service I became involved with an organization called The Fallen Outdoors that takes other Veterans and active service members on hunting and fishing trips at no cost to them. I now am the East Coast Regional Director for this wonderful organization. In addition to my role with TFO I'm proud to call myself a father, a law enforcement officer in a local jurisdiction and the owner of Southern Waterfowl Company.
The Fallen Outdoors has provided for me the unique opportunity to be able to share the outdoors with brothers and sisters in service and by far my favorite aspect of the outdoors to share with them is waterfowl hunting.
Waterfowl hunting is much more than a TV show or a sticker on the back of your truck, it's a sport with arguably more tradition and more dedication than any other. The camaraderie shared in a duck blind doesn't compare, to me at least, to any other sport in the outdoors. The early mornings, the cold, the rain, the wind: it's all worth it to watch those birds work into your decoy spread.
The Ultimate Waterfowler's Challenge provided me the opportunity to achieve something greater than I had planned, the chance to harvest all registered species in North America. I set out on this quest with a goal of completing the challenge in two seasons and I am proud to say that I was able to achieve that goal.

The Ultimate Waterfowler's Challenge took me to 9 different states and Mexico on a journey that totaled 34,028 miles.
I could not be more proud to have had the help and support of many friends and family along this journey and I am thankful to the Ultimate Waterfowler's Challenge for creating such an adventure.

Thank you!
CERTIFIED GRAND MASTER
WATERFOWL HUNTER:
Cary Simonds
UWC ID: WF-000-269 (Gold Member) | Washington
OFFICIAL START DATE: February 29, 2016 - COMPLETION DATE: JANUARY 29, 2018
TOTAL SPECIES HARVESTED TO DATE: 44
BONUS BIRDS INCLUDE: BARNACLE GOOSE, MEXICAN MALLARD, EMPEROR GOOSE

I began collecting waterfowl species just recently and have found that I LOVE this sport. I have collected big game species my entire adult life, all with a bow and arrow. After 25 trips to Africa and many other travels, I decided that I would stop that sport, except on our ranch, where we hunt deer, elk, moose, cougar, bear and turkeys! I began my waterfowl pursuits with" sea duck hunting", and that type of hunting is still my favorite type of waterfowl hunting! I love the "Social Aspect" of duck and goose hunting and particularly, I appreciate being able to talk and laugh while hunting. This is quite a contrast with the "Silence expected in Bow Hunting"! I've learned so much while in the blind with other hunters and guides, it's really been a pleasure, I consider myself a conservationist, and I believe we sportsmen have the responsibility to care for our wildlife and wild lands. I've found that most of the waterfowl hunters I've met feel the same about conserving these Beautiful bird species. I feel privileged to be a small part of UWC. I think that the effort of collecting different species of Ducks and Geese is a great way to become educated about these wonderful birds. Therefore I fully support UWC and I hope that all we waterfowl hunters become a part of this rapidly growing Organization.

| | |
| --- | --- |
| | |
CERTIFIED GRAND MASTER
WATERFOWL HUNTER:
Sean Tomlin
UWC ID: WF-000-272 | Virginia
OFFICIAL START DATE: January 5, 2016 - COMPLETION DATE: JANUARY 5, 2018
TOTAL SPECIES HARVESTED TO DATE: 45
BONUS BIRDS INCLUDE: HYBRID DUCK, MEXICAN MALLARD, EURASIAN TEAL, BREWERS DUCK
INTERNATIONAL SPECIES HARVESTED: 4
(NOT INCLUDED IN THE NORTH AMERICAN WATERFOWL CHALLENGE)
INTERNATIONAL BIRDS INCLUDE: BRAZILIAN TEAL, WHITE FACED WHISTLING DUCK, ROSY BILLED POCHARD,
Wow!! What a journey it has been! This challenge has taken me places few ever get to experience. It helped me to make new friends and build stronger bonds with old ones. It caused me to set out on a 3 week expedition to hunt all 4 flyways in one season, to hit the road with just a little equipment, mans best friend, hard work and a lot of luck. To endure the defeat of some days and the success of others. Some people think this challenge is all about "the trophy", it's not!! It's about seeing what all our great country has to offer, the sunrises and sunsets, the freedom to carry our guns to every diverse habitat the birds we love enhabit, the extremes in which they adapt, to find a little something more in ourselves, to test our resolve, our wits and our skill. Some of my greatest memories on this challenge doesn't even involve killing, exempi gratia, a small group of 8 Longtailed Ducks banking 4 yards in front of me in a layout boat and chatter laughing at me, Stellars Eiders swimming in my decoys 10 yards away, listening to children in a blind discuss there duck hunting careers, the dog looking up to the sky anticipating falling ducks, watching someone have a meltdown over best laid plans falling through, the scratching my head in amazement as to where in the hell the ducks get their Kevlar vests and the wonder of what's going to come in next. I tip my hat to all who reach the pinnacle of this challenge, you have been weighed, you have been measured and you have not been found wanting. Good luck in your pursuit!


| | |
| --- | --- |
| | |

UWC MEMBERS WHO HIT THE GRAND MASTER WATERFOWL CERTIFICATION LEVEL IN 2017



CERTIFIED GRAND MASTER
WATERFOWL HUNTER:
DAN WENNERLIND
UWC ID: WF-000-001 | MINNESOTA
OFFICIAL START DATE: AUGUST 14, 2014 - COMPLETION DATE: DECEMBER 12, 2017
TOTAL SPECIES HARVESTED TO DATE: 43
BONUS BIRDS INCLUDE: HYBRID DUCK, MEXICAN MALLARD
Looking back from when I first decided to take "The Challenge" to complete the North American Waterfowl Grand Slam, the journey has been far more incredible then anything I could have ever imagined.

Solid friendships have been formed and enhanced during this 3 ½ year journey with fellow waterfowlers that will be in my life until I depart from this earth. I feel that along the way my faith was strengthened. The breathtaking mountain views from Alaska and Washington were truly amazing! The first sunrise off the California coast was absolutely gorgeous and so was the last sunset over the coastal marsh in Mexico. There were so many cool moments encountering God's incredible creation! many times I felt His presence with me along the way.

The best way I can describe The UWC Challenge is comparing it to training and completing my first and only marathon. At first it was just fun. Each time out was just an exciting time to try and knock off as many new species as I could. As it progressed, it got harder and harder to knock off the missing birds on my list and thus the journey became more and more intense. Towards the end, extensive time and effort went into planning each hunt for the desired birds, and with it distant travel to remote locations across the continent as the pursuit ensued.

The feeling I had when I pulled the trigger for the last time and watched a big drake Barrows Goldeneye plummet into the waters of the Puget Sound in Washington on December 12, 2017 was indescribable. Much like crossing the finish line in my marathon many years ago, it was surreal. I felt a sense of inner peace and personal satisfaction. It was almost like, I can't believe it's really over, I DID IT.

I highly encourage anyone that has started or is thinking about taking "The Challenge" to Just Do It. Whether it takes you 5 years or 50 years to complete it, The Journey will change your life forever!

| | |
| --- | --- |
| | |
| | | |
| --- | --- | --- |
| | | |
| KING EIDER | HARLEQUIN | MOTTLED DUCK |